A Letter from the Dean
To the members of the Class of 2024,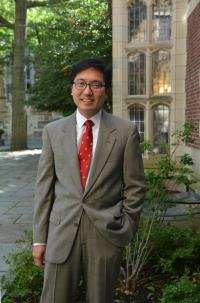 Welcome! When you arrive at the end of the summer, you will discover opportunities in Yale's classrooms, laboratories, libraries, and studios. But you will also discover opportunities to learn in other places, too, from your residential college dining room to the courtyards throughout the campus. As you prepare for your arrival, use this guide to orient yourself; it will provide you with information about Yale's rich curricular, co-curricular, and extracurricular life. The best place to begin is in the Getting Started section.
What to Expect from this Section
This New Student section provides matriculating students with guidance and information as they transition to life on campus.
Please refer to the matriculation letter (PDF) you received outlining the steps to set up your NetID, Yale email account, New Student Dates and Deadlines, Getting Started Checklist, and First-Year Orientation Calendar.
Please note:  Invitation to the Class of 2024 page on Yale Connect may take a few days to occur after activation of your Net ID and Yale email account. 
This section includes information on:
Activating your Yale NetID and Yale email accounts
Tasks required upon acceptance and continuing until your arrival in New Haven
Academic information with which to familiarize yourself, including preregistration or placement exams for courses when applicable
Advising and support services information
Pre-orientation program information and registration instructions
Information about housing, including the related "Housing and Advising" Form, and guidelines regarding what to bring and which items will be provided
Information about campus culture and traditions
Health-related materials and forms to submit
Take note of the abstract blue design at the top of the New Student section pages indicating that you are in the New Student section. The page bread crumbs will offer similar direction; as you familiarize yourself with the website, do make sure you are getting your information from a New Student section page.
How to Use this Site
Certain site pages include the heading, "Explore this section" with a downward-pointed arrow. Click on the arrow to see an outline of the general page content and relevant links.
Our pages are often long; make sure you scroll down the length of the page to locate information.
Once you start becoming familiar with the site, feel free to explore it more by using the Search feature (under Search & Menu).
Getting Started
The first thing you need to do is activate your Yale NetID, which gives you access to all of Yale's network resources. Please complete the activation on a computer (the process is not compatible with phones and tablets). Make note of your NetID and keep it in a safe place so you remember it. It may take a few days for your NetID to fully activate through all of Yale's information systems. If you have difficulty activating your NetID, please contact the ITS Help Desk at 203-432-2900 or visit their website to start a chat or report a problem.
NOTE: This page contains critical information for first-year students. Please be sure to scroll to the end of the page.
While you are waiting for notification that your NetId has been activated, please review and save the link for New Student Dates and Deadlines. This list will be your guide to everything you are required to complete over the summer. 
Once you receive notification that your NetID has been activated, you will be able to set up your Yale email account. After setting up your Yale email account, please access the Getting Started Checklist on the Yale College Class of 2024 page on Yale Connect. This interactive form will help you to keep track of both completed and yet-to-be completed tasks.