May 14, 2021
Dear Class of 2025,

I want to echo the warm welcome you received from Deans Quinlan and Boyd last week. We are thrilled that you will be joining us in the fall as part of the Yale College Class of 2025! We will be sending regular emails to you over the summer to introduce you to people and resources at Yale. We will also share these emails with the family members whose email addresses you have provided. To add or change an email address for a family member, you can visit the Student Information System (SIS).
Here are a few key pieces to get you started:
Plan for First-Year Orientation and Move-In
We are still finalizing the details of the orientation schedule, but we do have the dates set. If you wish to participate in a pre-orientation program plan to arrive on August 23. Registration for pre-orientation programs will open on June 1. The programs may need to cap attendance to comply with Covid restrictions, so please do not wait till the last minute to apply.

If you are not participating in a pre-orientation program, plan to arrive on August 27. Orientation will begin at 8:00 p.m. on August 27 and end the evening of August 31. Orientation events are mandatory, and you are expected to be on campus throughout this time.

Fully vaccinated family members will be welcome to accompany you into the colleges and Old Campus during move-in, but we ask that unvaccinated family members not enter Old Campus or the residential colleges.

Once the orientation calendar is set, it will be available in Yale Connect, the campus engagement platform for Yale University. Guest access will be available to Yale Connect so that everyone helping you can see both your orientation schedule and access the events designed for them. We will send instructions on how guests can gain access to the platform closer to the start of orientation. 
Covid Updates
Every Friday, Dr. Stephanie Spangler, the University Covid-19 Coordinator, sends an update to the community with information about case numbers, policy changes, and other important pieces of information. You all will now be added to the distribution list, and I urge you to pay close attention to these messages. We are looking forward to gathering together as a community this fall, and the guidelines for what will be possible will be guided by advice from our team of public health experts. 
First-Year Affairs Team
Our team is counting down the days until orientation begins! Until then, let me introduce you to everyone on it, since you will hear from all of us over the summer.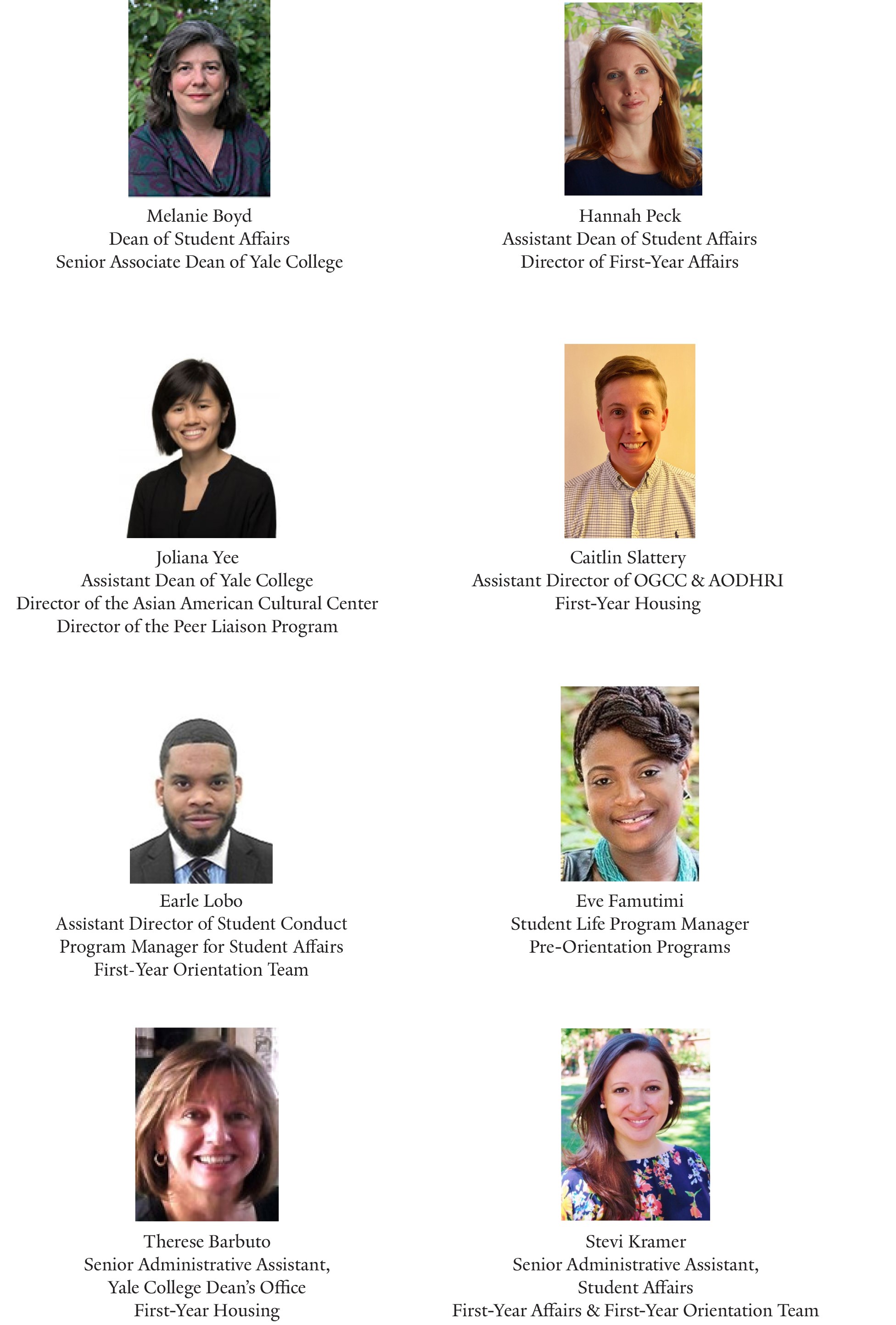 Warmly,
Dean Peck