Yale Athletics is committed to creating a safe and enjoyable environment for all fans. Fans, in turn, are responsible for their own conduct.
Yale University permits tailgating on football game days in designated areas, during specified hours, and under the conditions outlined in these tailgating policies.
 
The Yale Police Department (YPD) will enforce all policies. All guests' belongings are subject to search. Anyone visibly under the influence or impaired will not be admitted into the tailgate areas or the Yale Bowl. Yale University reserves the right to alter and interpret regulations described below.
Hours of Operation
Tailgating will begin four hours prior to kickoff (8:00 AM). 
Tailgating will end 15 minutes prior to kickoff (11:45 AM). 
Transportation to and from Yale Bowl
Shuttle buses will begin running at 7:00 AM from Payne Whitney Gymnasium and Phelps Gate.
Shuttle buses will drop off on Marginal Drive (corner of Derby Ave and Yale Ave).
Shuttles returning to campus will begin at halftime from Gate B of Yale Bowl.
All return shuttles will stop at Chapel and York Street and Payne Whitney Gymnasium.
Shuttle buses will end at 6:00 PM.
Alcohol Policy
No outside alcohol may be brought into the Student Tailgate Village. Registered tailgates may place an order for beer and wine through a centralized vendor.
Orders will be delivered the morning of the game between the hours of 6:00 a.m. and 7:45 a.m., and each group should send one representative who is over 21 to collect its order, then stay with the alcohol inside the Student Tailgate Village until the tailgate begins.
No alcohol may be left unattended.
Tailgating Permits and Space
Residential colleges/houses and student organizations seeking to set up their tailgate during the load-in period are required to register their tailgate and receive advance permission from the Athletics Department. 
The permit will provide access to set up a tailgate in the student village from 6:00 AM to 7:45 AM.
Organizations must register their tailgate by Sunday, November 17 at 11:59 PM.
Registration will be reserved for Residential colleges/houses. Other availability is limited and will be filled on a first-come, first-served basis.
Upon departing, each group is expected to clean up its own space. Each group should bring trash bags to properly dispose of trash. Neatly tied trash bags can be left or taken to dumpster in the tailgate village. Please refrain from leaving loose trash and litter.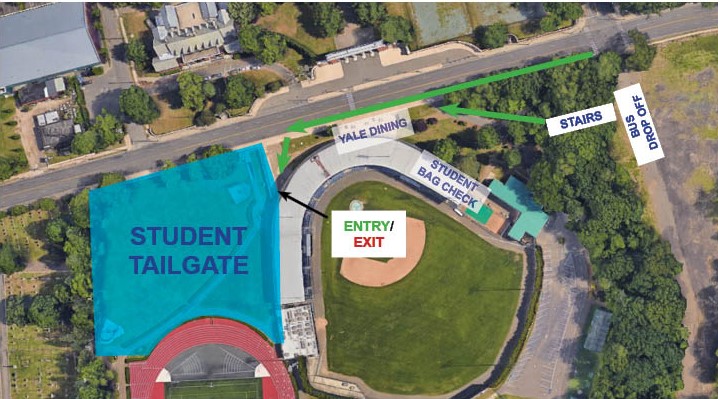 Entering the Student Tailgate Village
The Student Tailgate Village will follow the Yale Bowl's clear bag policy.

Acceptable bags include a 12in x 12in x 6in clear bag, a gallon sized clear zipper-lock bag, or 6.5in x 4.5in purse with no strap.
For complete details please go to: yalebulldogs.com/clearbags.

All student bags can be checked at the bag check location at Yale Field.
Wristbands, which permit alcohol consumption inside the student tailgate village, will be available to anyone 21+ at the shuttle bus pickups on campus, as well as at a tented location inside the Student Tailgate Village.
Setting up and Breaking Down a Tailgate Area
See map above for more information
All catering must be provided by an approved caterer. Please contact Andy Dunn via email (andrew.dunn@yale.edu) for contact information.
Approved tailgates can set up beginning at 6:00 AM. Set-up must be completed by 7:45 AM. Any vendors or students who arrive after 7:45 AM will NOT be permitted to set up.
Vehicles needing to stay on site can purchase a parking pass in Lot X/Y for $20. Details on how to purchase are available on the tailgate registration form.
Breakdown of all tailgates will occur between 12:30 PM and 2:00 PM. Breakdown cannot occur prior to this time.
Activities and Equipment
The following items and activities are permitted:
Gas grills with a maximum propane cylinder size of 20 lbs.
Consumption of alcoholic beverages by persons of legal drinking age, and in conformance with Connecticut State Laws, City of New Haven Ordinances, and University Policies
Tables and chairs
Clear bags smaller than 12inx12inx6in.
Small hand-held purse 6.5inx4.5in or smaller with no strap
The following items and activities are NOT permitted:
Kegs, drinking game accessories, excessive quantities or common source containers of alcoholic beverages
Hard alcohol or distilled spirits
Underage drinking
Glass containers
Box trucks
Open fires fueled by charcoal, wood, or other combustible materials of any kind
Amplified music
Electric or gas generators
Any bags not meeting the clear bag policy (backpacks, duffle bags, etc.)
Planned Programming
A DJ will be on site.
Yale Dining will have a catering tent to provide food to Yale and Harvard students with their school ID.
---
The University reserves the right to remove anyone from the premises whose conduct endangers or disrupts the players, coaches, officials, or other patrons, without refund and with potential loss of ticket privileges for future games.
Yale students who are in violation of policy may be referred to their residential college head or to the Executive Committee for possible disciplinary action.