February 24, 2022
Dear students,
As the surge in undergraduate COVID-19 infections continues, a clear pattern has emerged: weekend infections lead to sharp increases in positive tests on Monday and Tuesday, then new positives taper off during the week. This week's numbers are a little lower than last week's. If we work together, we can build on that progress and bring the numbers down even further next week.
Here are Yale College's daily results since the surge began. These numbers include self-reported tests that are not reflected in the COVID-19 dashboard.
The contact tracing data from the past weeks, shown below, also illustrate campus infection patterns. Almost all recent undergraduate cases have been traced back to prolonged unmasked encounters, usually at crowded social events, and to secondary exposures to people who participated in those events.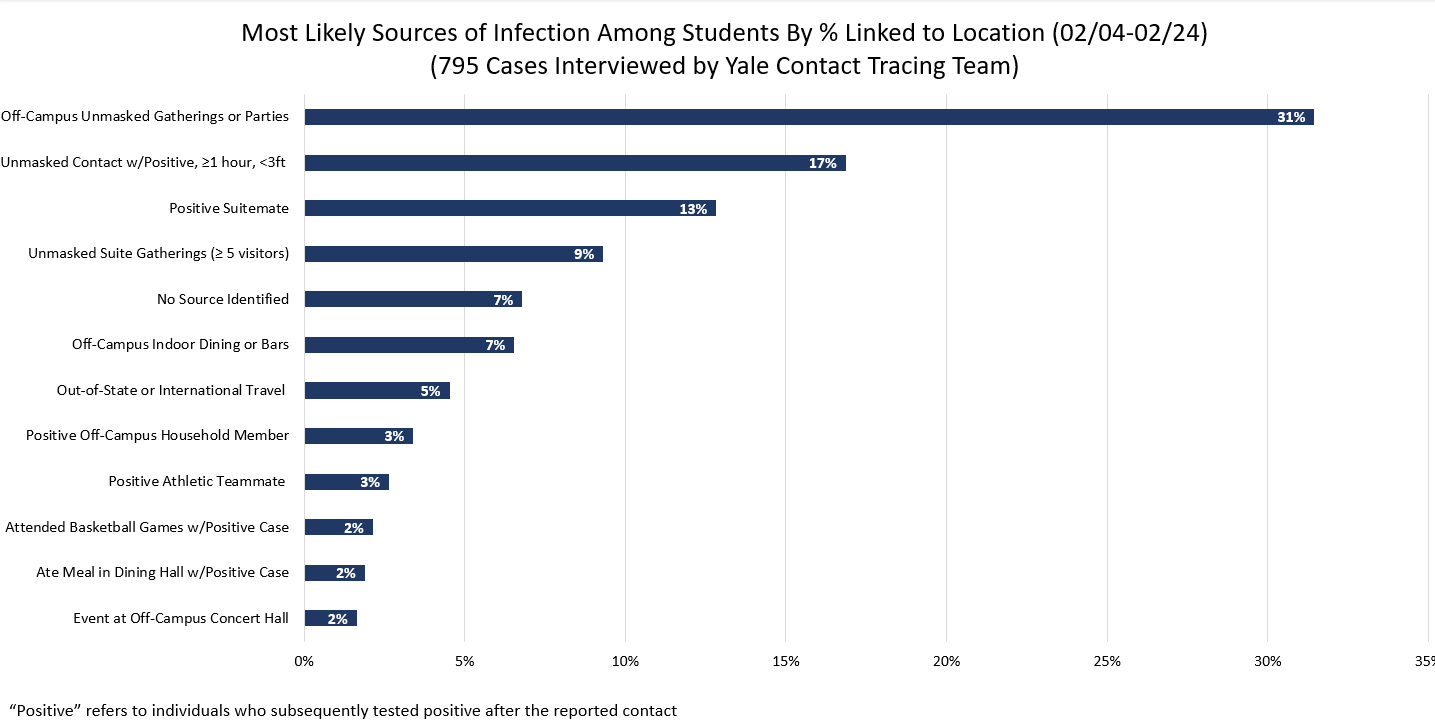 In contrast, there has still been no evidence of transmission in classrooms, where ventilation systems have been assessed and improved as necessary, students are masked and mostly stationary, and time together rarely exceeds 90 minutes.
The contact tracing data reinforce what we already know. By wearing your mask and avoiding crowded or prolonged gatherings, you can significantly reduce the risk of viral transmission. It also helps to separate your socializing from your eating and drinking – I know that is hard, but staying masked will enable you to interact with more people, in more spaces, for longer periods of time. If you wish to eat your meals outside the dining halls, despite the low transmission there, you will now find more to-go boxes available.
The new masks that you have received from your residential college are different from the ones provided earlier in the pandemic. Remember that cloth and non-medical paper masks offer source control—they protect people around us from our own potential illnesses. The higher quality masks that Yale is now distributing provide direct protection for the wearer, as well as source control for those around them.
During the surge, many of you have had questions about Yale's health and safety policies and the protocols for specific situations. You will find many answers on the Yale COVID-19 site and still more on the Yale College COVID-19 Announcements and FAQs. Here are the answers to two of the most common questions I am hearing:
What should I do if I receive a positive test result?
Return to or remain in your room. If you have tested positive on a self-administered test, report that result online.
Read and follow Yale's isolation instructions.
Answer your phone. The Yale Health resulting team will call you to assess your health, assign your isolation location, and give you additional instructions. Then, the contact tracing team will call you to help you identify your close contacts from the previous 48 hours; the contact tracer will also tell you how to fulfill your responsibility of notifying those people of their exposure and give them the guidelines for their next steps.
Watch your email and respond promptly. You will receive additional information and queries, including a request for your dietary preferences if you are isolating on campus.
What should I do if I am a close contact?
Put on your mask. You will need to stay masked for 10 days whenever possible, including outside. In your own suite or off-campus housing, wear a mask in the common spaces and in your bedroom if it is shared; you do not need to wear a mask to sleep. Do not eat in the dining hall, in a restaurant, or anywhere with other people.
Read and follow Yale's close contact instructions. These contain more detailed instructions, including an accelerated testing schedule.
Watch your email. If your on-campus suitemate has tested positive, you will get an automatic message when they are assigned to isolation housing. If you were exposed in some other context, the person who tested positive will have received instructions to contact you, either directly or anonymously via a service offered by the Centers for Disease Control and Prevention (the CDC).
I wish this pandemic were over, and I am sure you do, too. Although most cases have been mild, we need to avoid further spread of the Omicron variant—the surge is disrupting campus life and creating unsustainable work for the people supporting you. So, even though it is not what anyone wants, I say to you once more: Wear your mask. That will make the difference.
Sincerely,
Dean Boyd
Melanie Boyd
Dean of Student Affairs
Senior Associate Dean, Yale College
she | her | hers