August 23, 2019
Collective intelligence
Good morning. Class of 2023, transfer students, Eli Whitney students, and Visiting International Students, welcome to Yale!
I am Marvin Chun, dean of Yale College, and I am so pleased to be with you today. Joining me on the stage to greet you are President Peter Salovey, Provost Ben Polak, Secretary Kim Goff-Crews, Faculty of Arts and Sciences Dean Tamar Gendler, Graduate School Dean Lynn Cooley, Athletic Director Vicky Chun, the Yale Alumni Association's Executive Director Weili Cheng, officers of the university, heads and deans of the residential colleges, and deans and members of the Yale College Dean's Office.
Family members and friends who are here today, we extend our warm welcome to you, and we thank you for everything you have done in supporting and guiding these young adults. 
In my role as dean, one of my jobs is to support President Salovey's mission for Yale to be the research university most committed to teaching and learning. What that means for you students is that I am here to make sure that you get the best of what Yale has to offer, in the classroom or outside of it. A good part of what you will learn here will come from the faculty who will teach you in the classes you take, while much will come from the people sitting with you today – your peers and colleagues. Taken together, these teachers of yours will give you the liberal education that is Yale's hallmark. By the time you return to this hall to graduate, you will have furnished your mind in the broadest possible sense, not by pursuing narrow, specializing study but instead by searching for new knowledge, new perspectives, new ways of looking at the world, and by adding your own.
If you make good use of this place, you will discover fields of knowledge that are completely new to you, that you haven't even heard of, and you will open yourselves to them and learn from them. When you get to know your colleagues sitting around you today, something else you will discover is that you come from every possible walk of life, bringing with you every imaginable talent, every experience, every worldview. Learn from them, too. As a community, you are politically liberal, conservative, moderate. You are people with and without disabilities. You observe different religions or none. Roughly 2 out of 3 of you attended public high schools. About 1 out of 5 of you are eligible for federal Pell grants. Over 1 out of 6 of you are first generation college students. About 1 out of 9 of you are international students from over 50 countries. More than half of you identify as students of color. You are of all genders and sexualities.
We should take none of this for granted; think for a minute that for most of Yale's history, as recently as 50 years ago, even when the US was able to send the first humans to the moon, women were not allowed to receive an education in Yale College. I think of my mother, who along with my late father immigrated to California from South Korea. Now one of the world's most prosperous countries – anyone heard of BTS? – South Korea was one of its poorest ones back then. But even in the 1950s, right after a devastating war, my mom was able to receive a college education from Korea's version of Yale. And I know that without the opportunities afforded to her, I would not be standing here as a faculty member at this great place.
You are coming to Yale as it marks a historic milestone: the anniversary of 50 years of coeducation in Yale College, and 150 years of coeducation in the graduate and professional schools. This year, the university honors the monumental value that coeducation brought to our institution, not only because coeducation was such a huge step forward in creating today 's Yale community but also because it went to the heart of a Yale liberal education, open to all people as well as to all ideas. You will hear the words "excellent" and "diverse" together here, again and again; at Yale, they go hand in hand. If you look at Yale's history, as its excellence has continued and grown every decade, every year, so has the diversity of its students, staff, and faculty.
The connection between excellence and diversity has long captured the attention of researchers who study collective intelligence and who investigate whether groups are smarter than the individuals in them. Carnegie Mellon's Professor Anita Woolley, studying teams and what makes them stronger, found that it is not a group's average IQ or even the IQ of its smartest member. And it isn't its number of extroverted members, or the group's motivation. What she found – and here she is in her own words – was that "the individual skills most critical for collective intelligence are those that enhance the ability of group members to collaborate effectively or that enrich the collaboration by bringing a sufficient diversity of perspectives" (Woolley et al., 2015). These are the conditions of collective intelligence, and what they do is predict a group's superior performance on a wide range of complex tasks. That could mean playing checkers, brainstorming possible uses of a brick, optimizing choices in behavioral economic games, or even competing in League of Legends. Yale embraces the idea of collective intelligence, which depends on people who bring diverse ways of looking at the world, and who know how to communicate and collaborate. 
And here you are. You have earned a place in this community – which is itself a team – because of the promise you have shown in what you will contribute to it, and to the communities and teams you will join after you graduate. As you think about how you go about that, you can start by asking how to maximize your collective intelligence by leveraging your different backgrounds, views, talents, and interests, and how you can enhance your social sensitivity as a community by learning how to see the world through each other's eyes. 
I am a psychology professor, so let me demonstrate one way you might start out on this road. If you look inside your printed program, you will find an insert; please pull it out. Now look at the image in the middle. Name out loud what you see. If you first saw a duck, raise your hand. If you first saw a rabbit, raise your hand. Can you see it both ways? This simple demonstration shows a fundamental principle of psychology: we all experience the world differently. Our perceptual interpretations, our memories, and our thoughts, are all constructs of the mind, and they differ across people even when considering the same object, event, or evidence. 
Yale will expose you to views different from your own, and when it does, you can start by finding common ground with people when you don't agree with them. Before you put away your insert, take one more look at it, this time at the cartoon on the bottom. Two armies face each other, and for the army on the bottom, find the general at the front of it, urging his troops, "There can be no peace until they renounce their Rabbit God and accept our Duck God." Imagine what happens when the opposing troops realize they are serving the same flag.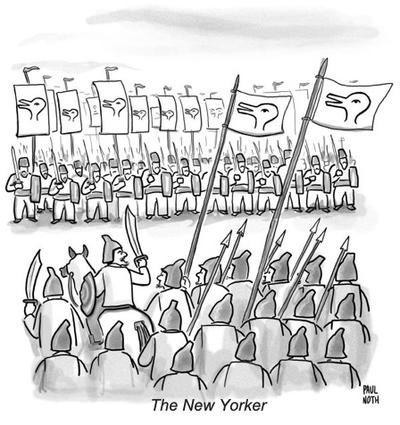 Ask yourself, "What is my flag?" Please shout out the answer to the following: What's the research university most committed to teaching and learning? You are all now members of Bulldog Nation. With the sophomores, juniors, and seniors – the alumni, faculty, and staff – and with each other, you have common ground, an immediate shared bond that is more than tribal: it goes deeper, to the intellectual curiosity and the commitment to community that have brought you all here.
You have just arrived at a place that values difference and actively seeks it out. It is how professors and students find and test knowledge, and it is how the university equips its students – that's you – to become leaders and citizens of the world. But here, the value of seeking difference is even more than that: here it is taken as an article of faith, it is the coin of the realm, it is one of the bedrock principles that governs us – in and out of the classroom.
Let me assume that you have come here not only to find knowledge but also to learn how to live lives of consequence. If that is true, you have come to the right place. As you take your first steps, then, you will need to become comfortable with difference, not just to accept it or tolerate it but to insist on it. You will find guides everywhere, in the classes you will take, the activities you join, and most of all from the people sitting around you right now – your peers and classmates. All of them are part of the liberal arts education that awaits you.
Your life at Yale has started, and in just a few days you will be enrolling in classes, joining organizations, or training with your team. As you do that, here's what I hope you will do. If you are a duck person, go find those rabbit people, and find common ground with them. If you are studying all duck courses, go find the rabbit courses, and see what they can teach you. And when you find yourself rallying around a duck flag, take a good, hard look at that rabbit flag across the field and the people rallying around it, and remember that you are all Yalies. 
Members of the Class of 2023, transfer students, Eli Whitney students, Visiting International Students, you belong to Yale, and Yale belongs to you. Welcome!